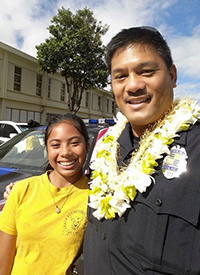 D.A.R.E. Hawaii is a 501(c)(3) non-profit organization operating under 99-028594. The Mission of DARE Hawaii is two fold:

First and foremost, DARE Hawaii is committed to supporting the law enforcement officers and military police in the State of Hawaii with materials and incentives for conducting classes annually to elementary, middle, and high school students, with the purpose of teaching our keiki to make safe and responsible decisions to resist alcohol, drugs, tobacco, violence, and other risky situations to lead a safe and healthy life.

The second part of our mission is getting our young people to relate to law enforcement as people of the community in a helping role by opening the lines of communication between law enforcement and the youth. DARE Hawaii is committed to providing information beyond drug related topics while creating an open dialogue between the schools, police, and parents to deal with other issues.

D.A.R.E. HAWAII IS COMMITTED TO TEACHING OUR KEIKI OF HAWAII TO BE RESPECTABLE AND RESPONSIBLE CITIZENS.